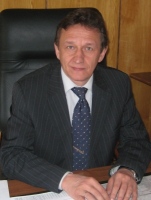 Сысолятин Владимир Петрович родился 25 мая 1957 г. в г.Котельниче Кировской области. Женат, воспитывает дочь. 
1975 - 1977 гг. - проходил службу в войсках противовоздушной обороны страны;
1991 г. - закончил Нижегородский социально-политический институт;
с 1999 г. - член совета Союза промышленных корпораций "Росиндустрия";
2001 - 2002 г. - назначен на должность представителя в Совете Федерации Федерального собрания РФ от Правительства Кировской области;
2006 - 2007 гг. - работал советником Генерального директора ОАО "ТГК-5";
с 2008 по настоящее время - Генеральный директор ОАО "Нововятский лыжный комбинат".
Ad blocker interference detected!
Wikia is a free-to-use site that makes money from advertising. We have a modified experience for viewers using ad blockers

Wikia is not accessible if you've made further modifications. Remove the custom ad blocker rule(s) and the page will load as expected.